11 Murray Street, Hobart, Tasmania
dacianddacibakers.com.au
On holiday in Hobart over the Christmas break, I took the opportunity to try some of the local offerings. Walking down to the waterfront near Constitution Dock (where the Sydney to Hobart yachts come in at this time of year), you pass Daci & Daci Bakers, a quality looking French style bakery in a beautifully renovated old sandstone building that is no doubt historical, as are many of the buildings in this part of the old Van Dieman's Land colony. The interior is smartly presented with brass, wrought iron, and dark wood panelling, and the place is bustling with activity as people pour in through the doors to either sit at the cafe tables or snatch a take-away pastry or two and a baguette for later.
In a suitable nod to its Australian location, they have a silver tray of sausage rolls on display amidst the croissants, galettes, and tarts. The pile of generously stuffed looking rolls bears a label declaring them to be "Moroccan lamb sausage rolls", and bearing the hefty price tag of $10 if you take one away in a brown paper bag, or $14 if you sit at a cafe table and eat inside.
These look too good to miss, despite the price, so Mrs Snot Block & Roll and I take a seat so she can order coffee and sweet potato frittata, while I indulge in the sausage roll. Alas, while there is a tempting selection of fancy European style cakes, slices, and tarts, there is no vanilla slice to be seen. For my sweet fix, I choose a softball-sized passionfruit meringue, as I have been craving pavlova for some days.
The Moroccan roll comes on a plate with a small salad of leafy greens drizzled with a mustardy dressing, and a little bowl of a tomato sauce, which looks chunky and hand made. The roll looks gorgeous, with a deep golden brown pastry glistening with egg wash and already flaking off in large pieces, topped with flaked almonds and blackened sesame seeds. The visible ends of the meat filling look well cooked, with little crispy bits that seem to have dripped baking juices onto the adjacent pastry. On looks alone this is already a winner.
I eschew the supplied knife and fork and attack the roll in the traditional hand-held manner. The first thing that hits you is the Moroccan spice flavour. It's intense and deliciously flavourful, bringing back memories of sitting in the medina of Fez and partaking of the local spiced meats and couscous. The pastry is rich and buttery, and flakes off in nice crispy layers, becoming more moist towards the filling.
The meat is juicy and well spiced, and stuffed to the gills with red capsicum, carrot, onion, couscous, and raisins. For the most part I go naked, but towards the end I try a bit of the sauce, and it turns out to be a spicy harissa that has a bit of chilli kick to it. It's a much nicer complement than a straight tomato sauce would be. Overall, the whole thing is very nice!
For the second course, I try the passionfruit meringue, which comes with a pot of vanilla cream – you can see the flecks of black seeds in the cream from fresh vanilla beans. The meringue has a crisp shell as expected, but once inside I thought it would be soft and fluffy like a pavlova, but it's… chewy. Really chewy, almost like toffee. I imagine the cooking is very different from when a pavlova is made and the centre remains soft. The passionfruit flavour is very subtle but present. The whole is very sugary, as you would expect. The vanilla cream is really nice, though – a good solid punch in the face of vanilla. It goes well to subdue the sugary sweetness of the meringue. Overall, nice if you have a serious sweet tooth but overpowering otherwise.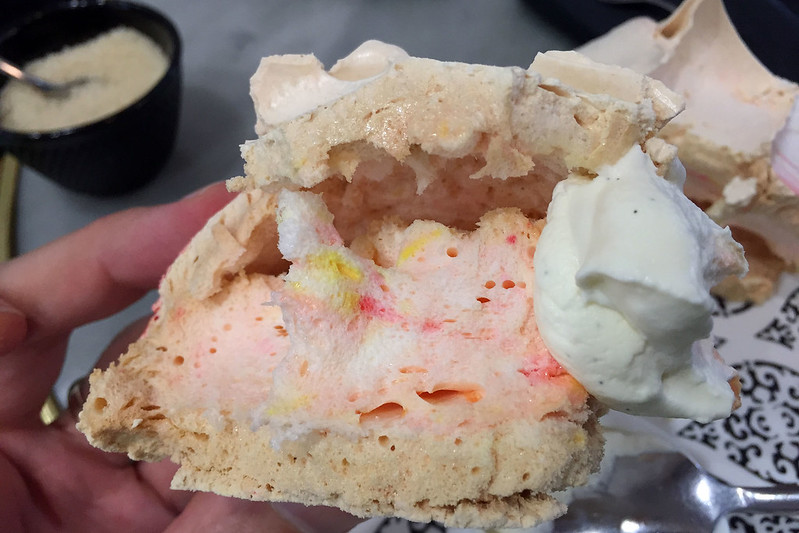 Moroccan lamb sausage roll: 9/10
Passionfruit meringue: 6/10