» About » Archive » Submit » Authors » Search » Random » Specials » Statistics » Forum » Facebook » RSS Feed Updates Daily
No. 1282: GaRFCeld
First | Previous | 2012-11-21 | Next | Latest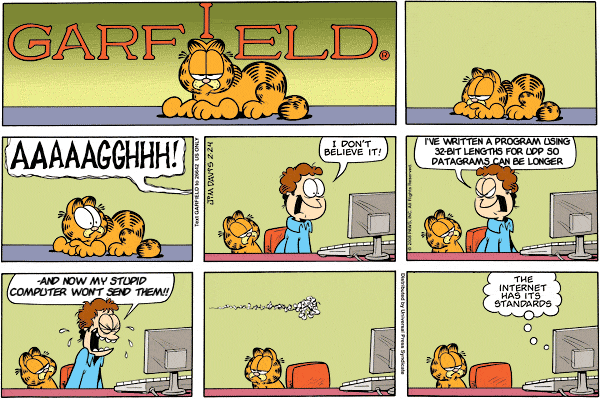 First | Previous | 2012-11-21 | Next | Latest
Strip by: Manyhills
Jon: Aaaaagghhh!
Jon: I don't believe it!
Jon: I've written a program using 32-bit lengths for UDP so datagrams can be longer.
Jon: -And now my stupid computer won't send them!!
Computer: The internet has its standards.
The author writes:
In this case, it's internet standard number six, the specification of the User Datagram Protocol.
Original strip: 2008-02-24.